11/17: Virtual visit with Lake Superior College, 10 AM. zoom link
11/17: Virtual visit with HCC 11 AM. Zoom link
11/18: Financial aid night--virtual, 6 PM. more info here
11/20: Technical Career Day at HCC (Virtual) Zoom link
11/24: Alworth/DSCACF scholarship info session 7 PM

Welcome to the NKHS counseling page!
Contact info:
Lisa Tucci
ltucci@isd319.org (preferred)
218-885-1280 ext. 51103
218-885-2910 fax
218-231-1898 text
New: NKHS Facebook page Click here
Crisis Resources
211 (local mental health crisis response team, shelter/basic needs referrals)
Crisis Text Line: text MN to 741741 (someone is available to talk 24/7).
Patty Salo Downs from the Alworth Scholarship and David Hammer from the Duluth Superior Area Community Foundation will host a General Scholarships Information Session. They are eager to have students and parents join them, learn about the many opportunities, and then keep the 'application momentum' going throughout the Thanksgiving holiday!
Here is the login info:
Scholarship Info Session
Tuesday, November 24 7:00pm
By computer, tablet or phone:
https://global.gotomeeting.com/join/111607813
By phone: +1 (872) 240-3311
Access Code: 111-607-813
Similar sessions are also scheduled for
Thursday, December 17 9:00am
Tuesday, January 5 7:00pm
Technical Career Day at HCC! November 20th!
You are free to attend the sessions that interest you most. Zoom link: https://meet.google.com/vpp-stsp-cgj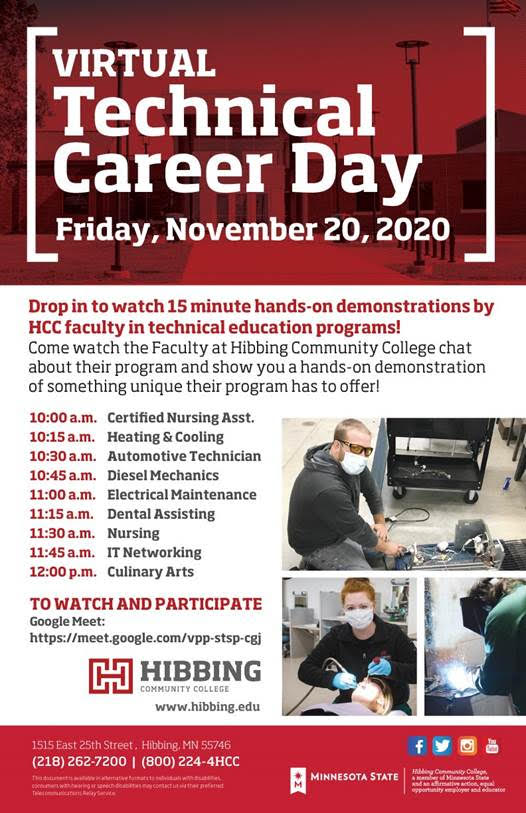 Financial aid night:
College bound seniors and their parents are strongly encouraged to attend financial aid night on 11/18 at 6PM. This will be a virtual event hosted by the ICC financial aid office. Learn about state/federal student aid (FAFSA) and more. More info here!
Spring ACT:
The ACT is scheduled for March 30th. This administration will be given here at school and is open to juniors and any seniors who did not test in October. ACT is optional, but strongly encouraged for college-bound students, especially those planning to go to a four year college or university. Please see/call/email Mrs. Tucci if you'd like to sign up. Thank you!
Ongoing virtual visits at ICC:
Virtual High School Visits: every Tuesday and Wednesday from 10-11am, and every Thursday from 7-9pm (excluding holidays). Beginning Sept. 22 and ending Dec. 17. Students, parents, and high school representatives can drop in anytime to learn more about Itasca: www.itascacc.edu/hsvisit
Seniors (and parents/guardians of seniors): It's time to start thinking about post secondary planning! Use this "cheat sheet" to get started:
Post-secondary planning "cheat sheet"
If you did NOT have a senior meeting with Mrs. Tucci in October, please contact me directly to schedule one.

MCIS:
We at NK are pleased to offer MCIS (Minnesota Career Information System) to our students again this year. MCIS is a comprehensive, web-based post-secondary planning and research tool. In addition, you can also access ACT, SAT, GED, ASVAB and CLEP practice tests, all FREE! To access this service, you'll need to login to MCIS at www.mncis.intocareers.org. If you do not know the NKHS username and password, please call or email Mrs. Tucci. Once you create your own personal profile, you will be able to login with your own information.
CIS/PSEO Information:
Postsecondary Enrollment Options (PSEO)
PSEO Criteria:
-Juniors need a GPA of 3.2 or higher
-Seniors need a GPA of 3.0 or higher
-Qualifying Test Score (MCA or Accuplacer)
Postsecondary Enrollment Options (PSEO) is a program that allows 10th-, 11th- and 12th-grade students to earn both high school and college credit while still in high school, through enrollment in and successful completion of college-level, nonsectarian courses at eligible participating postsecondary institutions. Most PSEO courses are offered on the campus of the postsecondary institution; some courses are offered online. Each participating college or university sets its own requirements for enrollment into the PSEO courses. Eleventh and 12th-grade students may take PSEO courses on a full- or part-time basis; 10th graders may take one career/technical PSEO course. If they earn at least a grade C in that class, they may take additional PSEO courses.
There is no charge to PSEO students for tuition, books or fees for items that are required to participate in a course. Students must meet the PSEO residency and eligibility requirements and abide by participation limits specified in Minnesota Statutes, section 124D.09. If a school district determines a pupil is not on track to graduate, she/he may continue to participate in PSEO.
Interested Students are REQUIRED to notify their NKHS Counselor by May 30 if they want to participate in PSEO for the following school year. If Student, Parent & Counselor determine PSEO is the right fit he or she & Academic Plan THEN the Interested student must complete the Postsecondary Enrollment Options Program Registration form which can be found on this webpage: http://education.state.mn.us/MDE/StuSuc/CollReadi/PSEO/index.html
For current information about the PSEO program, visit the Minnesota Department of Education's Postsecondary Enrollment Options (PSEO) webpage at http://education.state.mn.us/MDE/StuSuc/CollReadi/PSEO/
College In The Schools (CIS)
CIS Criteria:
-Juniors need a GPA of 3.0 or higher
-Seniors need a GPA of 2.5 or higher
-Qualifying Test Score (MCA or Accuplacer)
Nashwauk-Keewatin High School has College in the Schools (CIS) courses for our students. These courses offer college credit to students right here at NKHS, and serve as dual credit for both high school and college credit.
The credits offered through the CIS program are transferable to all Minnesota State Colleges and Universities (MNSCU). To maintain academic integrity, qualified high school instructors teach the classes and classes have to meet certain criteria as well.
Students must meet academic criteria to qualify for CIS classes. Juniors must have a minimum GPA of 3.0 and seniors must have a minimum GPA of 2.50. Students must take an Accuplacer placement exam and, for some courses, meet minimum score requirements in Reading and/or Mathematics. Any exceptions to these standards must be approved by the community college president or designee based on a signed statement by the high school principal. In certain situations, 10th graders may be allowed to take a course for college credit. The sponsoring college determines eligibility on a case by case basis.

Mrs. Tucci will meet with all qualified potential CIS/PSEO 10th and 11th graders prior to registration for the following school year. Parents and students are encouraged to see me with any questions.