Lisa Cooley, RN District Nurse #319 Nashwauk-Keewatin 218-885-1280 x52138 lcooley@isd319.org
Gina Stimac, LPN School Nurse Nashwauk-Keewatin#319 218-885-1280 x51154 gstimac@isd319.org
Early Childhood Screening information can be accessed at the link below.
Covid-19 District Policy for Quarantine & Isolation.
COVID-19 Updates
A letter from your nurse:
Dear Spartan Families,
Welcome to the 2021-2022 school year. My name is Lisa Cooley and I serve as the District Nurse for Nashwauk-Keewatin Schools. My office is located at the Nashwauk high school. New this year also is Gina Stimac, LPN who will be serving our K-6 schoolers at the Keewatin elementary school. We are very excited to become part of the N-K team & look forward to working with our students, staff, & community to promote health, happiness, & growth.
We know that our community continues to feel the impact of COVID-19. If you have questions or concerns please call or email the Health Services office.
If you feel that you or a loved one are in a crisis, please dial 2-1-1 for assistance regarding essential community services.
If you feel that you or a loved one are suicidal, please text 61222 for assistance.
If you would like to use Telemedicine and speak to a doctor, here are a few options: PlushCare, Doctor on Demand, OnCare, and MDLive. They are available 24/7. Telemedicine helps to manage ongoing conditions, like depression, diabetes or hypertension; everyday care issues like hair loss or birth control; and urgent care issues, like cold and flu, sinus infections or UTIs.
PlushCare is available at https://plushcare.com/
Doctor on Demand is available at https://www.doctorondemand.com/
MDLive is available at https://www.mdlive.com/
OnCare is available at https://www.oncare.org/
Essentia Health E-Visits are available at https://www.essentiahealth.org/services/e-visit/
Remember, the best prevention measures for you and your loved ones are to wash your hands often, cover your cough and sneeze into your elbow or tissue, wear a cloth face covering, and stay home when you are not feeling well.
Videos for Students
Cloth masks are one of the easiest ways we can limit the spread of COVID-19. And while our littlest Minnesotans are less affected by COVID-19, they can still get sick or spread the virus to others who might be severely impacted. We need everyone five and up to mask up. Parents – start practicing good mask wearing habits with your kiddos this summer so they're ready for whatever the fall brings. Make it part of your routine to put on a mask any time you head out the door. It's like tying your shoes or riding a bike – it takes some practice, but it's best if we all know how to do it safely. Let's mask up, Minnesota! For up to date information about COVID-19 visit health.mn.gov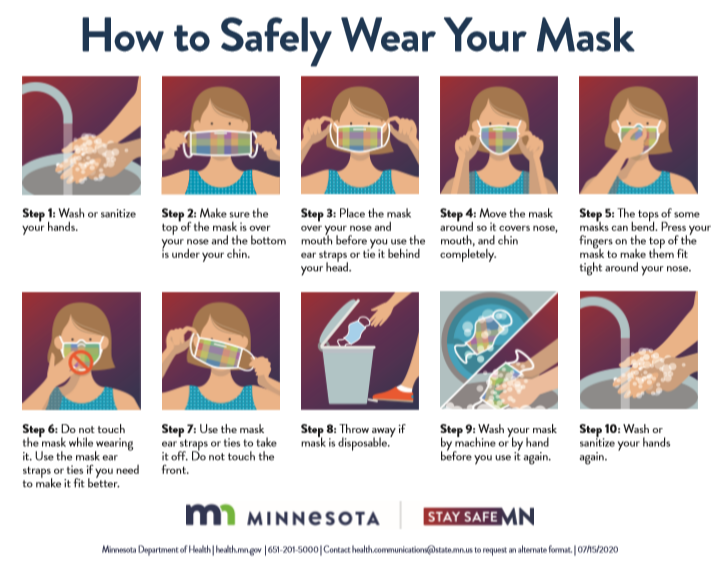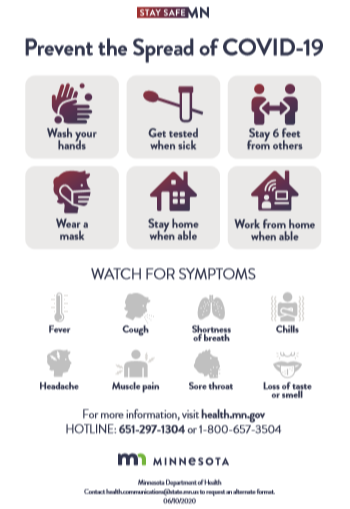 Parent Q&A
This year will be a unique year for all students and staff. This will be a year that students and staff will be sent home more than normal.
Your child will be sent home if they have the following:
New-onset cough

Shortness of breath (trouble breathing)

Loss of taste or smell

Two of the following: fever (100.4 or higher), chills, muscle pain, sore throat, fatigue, congestion, or stomach symptoms of diarrhea, vomiting, or nausea.
If your child only has one of the symptoms listed above for no known reason, they may be sent home and should talk to their healthcare provider about testing.
Positive COVID test:
Stay home for at least 5 days from the day that symptoms started AND until no fever for at least 24 hours without taking medication AND symptoms are improved.

Siblings AND household members do not have to quarantine, unless they become symptomatic or test positive for Covid-19.

Please review our current Covid-19 quarantine policy for specific requirements for quarantining, isolation, & masking per our district policy.
Negative COVID test but have symptoms:
Stay home for at least 5 days from the day that symptoms started AND until no fever for at least 24 hours without taking medication AND symptoms are improved.
If you have an alternate diagnosis that explains the symptoms, or when the health care provider says that the symptoms are due to a pre-existing condition, you must stay home until the symptoms have improved.
Siblings and household members do not need to stay home.

The nurse will follow the Infectious Disease School Manual
Be sure to write down any new symptoms you notice so we have time and date of when they began. Common colds will not be recognized as a common cold, they will be COVID symptoms.
Will my child be tested for COVID at school?
No. They will be referred to a healthcare provider for a test or the Health Services office will provide a home antigen test with instructions.
Will my child be sent home if they only have a fever?
Possibly. If the fever is greater than 100 degrees, we will follow the School Health Manual and send your child home just like other years. The nurse will assess the child to see if they have any other symptoms to determine if it is due to something else such as teething or exercise.
What if a friend was exposed to a positive COVID person and then I was around them?
You would watch for symptoms to see if you develop any along with those that you live with, but you do not need to stay home as that is considered a second-person exposure. If you develop symptoms, then you would need to stay home for 5 days and contact your healthcare provider to get tested. Be sure to write down daily who you were around and when or if symptoms started.
What can I do at home to help stop the spread of COVID and encourage my child to do at school to stay healthy?
Stay home if you have any new symptom to see if it gets worse or improves

Physically distancing 3-6 feet apart

Wear a mask the way that they are supposed to be worn

Get rest and drink water

Be aware of any new symptoms you or your child may have

If your symptoms get worse, call our healthcare provider

Cover your cough or sneeze with your elbow or tissue

Wash hands often for 20 seconds

Avoid crowds and keep your distance from others (two arm's length)

Avoid sharing personal items with other people especially food and drinks

Clean common touch areas like tables, doorknobs, faucets, etc.
Early Childhood Screening
Who: Children 3 and 4 years of age
What: Screening in early childhood supports children's readiness for Kindergarten and promotes health and development. Screening includes vision and hearing, height and weight, immunization review, large and small muscles, thinking, language and communication skills as well as social and emotional development. Early Childhood Screening or a comparable comprehensive screening is required for public school Kindergarten entrance.
When: TBA
Please call (218) 885-1280 ext.51154 for an appointment.
Where: Keewatin Elementary School
Immunizations
Immunizations are important to keep your child and those around them healthy at school. Vaccines are recommended throughout childhood. Specifically, there are vaccinations required before Kindergarten and prior to entering the 7th and 12th grades.
If you do not plan to have your child immunized for medical reasons or personal beliefs please submit a notarized conscientious objection form or documentation from your physician indicating medical exemption.
Are Your Kids Ready? Minnesota's Immunization Law
Hearing and Vision Screening
Minnesota Department of Health recommends that all children receive a hearing and vision screening annually from kindergarten through third grade and in grades five, eight, and eleven. If vision or hearing difficulties are detected at screening, you will be notified by the District Nurse. If you have concerns regarding your child's hearing or vision, please let the District Nurse know.
Helpful Links:
Emoji Illness Guide- When should kids stay home from school?