FROM THE PRINCIPAL
Dear Spartan Families,
I've shared previously with you that this school year will be like no other. We're in the middle of living that reality. Currently, given the rates of COVID-19 infection, we will be moving to "Phase 3" for our school plan.
Please keep going, Spartan families!
It can be hard, it's frequently confusing- AND we're in this together. We're going to get through this, and we're going to be even stronger! #SpartanStrong
Sincerely,
Mrs. Annie Olson-Reiners
KEEWATIN ELEMENTARY SCHOOL - PHASE 3 LEARNING OCTOBER. 10-30TH
ASK THESE QUESTIONS AT HOME EVERY DAY BEFORE SENDING YOUR CHILDREN TO SCHOOL:
After taking your child(ren)'s temperature (100.4 or higher is a "send home" temp), please ask these questions of each child, every day, before sending them to school:
Does your child have...?
A new cough?
Difficulty breathing?
New loss of taste or smell?
A sore throat?
A stomachache?
Nausea?
Diarrhea?
Chills?
Muscle pain?
Excessive Fatigue?
Headache?
Newly "stuffy" nose or runny nose?
WHAT DAYS DO MY KID(S) NEED TO BE WHERE?
School for ALL elementary students, in-person (except any quarantined students):
Tuesday, October 6 - Thursday, October 8, 2020
NO SCHOOL for any elementary school students:
Friday, October 9, Thursday, October 15, Friday, October 16, Monday, October 19

Elementary School days for ALL students, DISTANCE LEARNING from home:
Wednesday, October 14, Wednesday, October 28
ORANGE students' learn at school, face-to-face days:
Monday, October 12, Tuesday, October 20- Wednesday, October 21, Monday, October 26- Tuesday, October 27
BLUE students' learn at school, face-to-face days:
Tuesday, October 13, Thursday, October 22- Friday, October 23, Thursday, October 29- Friday, October 30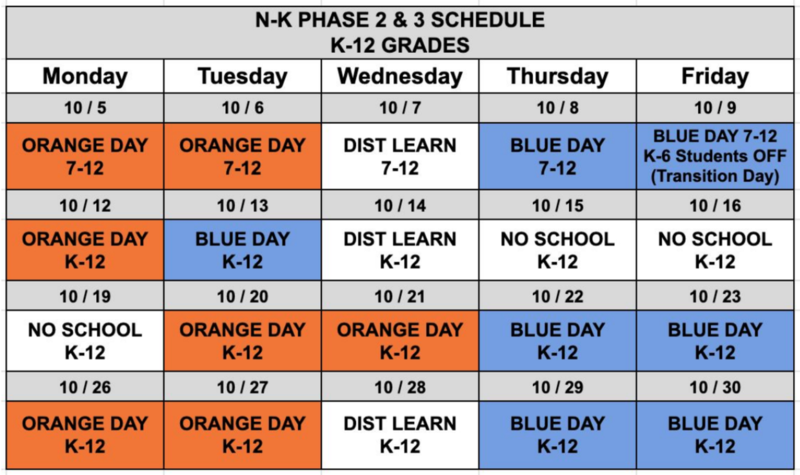 SCHOOL IPADS
For 1st-6th grade Keewatin Elementary students:

School iPads will go TO the home, and COME BACK TO SCHOOL any days your child is at school for face-to-face learning.
Again, PLEASE note: School iPads should GO with your child(ren), TO SCHOOL any day that your child has in person, face-to-face learning.
Please be sure to charge your school iPad so that it is ready to be used when students will need it most.
School coverage for breakage, loss, and any damage can be purchased for $30 per school year, per iPad. Please fill out, and return this form with a check (made out to ISD 319) or cash school with your child(ren) if you have not already done so.
If your family cannot afford the $30 fee, please contact Mrs. Olson-Reiners (aoreiners@isd319.org) or Ms. Brandi Lautigar (blautigar@isd319.org) to share your need for family hardship coverage.
If you do not pay the $30 fee or alert us to a financial hardship, you will be responsible for the replacement cost of the school iPad.
AM I STILL CONSIDERED A "TIER 1" WORKER?
Emergency Care at school, staffed by district employees, is available for families where both caregivers (or an only parent) is a Tier 1 essential worker.

The "Tier 1" essential worker list has changed at the state level, and is available at the bottom of the page "School Age Care and Frequently Asked Questions for the 20-21 School Year" on this webpage: https://education.mn.gov/MDE/dse/health/covid19/
Work situations that are no longer listed as a "tier 1" roles and may impact our families:
Liquor Stores
Mining work
If a caregiver can work from home
If a caregiver is currently furloughed, laid off, or unemployed.
IF OUR FAMILY IS A "TIER 1" WORKING FAMILY, HOW DO WE SIGN UP FOR CARE ON DAYS THAT THEY DO NOT HAVE SCHOOL?
We are sending home application packets with families who were able to benefit from care in the spring, and with any other students that we believe may qualify for emergency care.

Here is a link to the form if you need a copy: http://bit.ly/NKESEmergencyCare
More information regarding emergency child care can be found on our website at:
https://www.isd319.org/childcare--5
HELP SLOW THE SPREAD SO THAT WE CAN STAY IN SCHOOL TOGETHER!
With Minnesota's mask mandate and the Center for Disease Control (CDC) guidance, as our Superintendent, Ms. Brenda Spartz has already shared with families, all Nashwauk-Keewatin students will need to wear a mask or face covering during the 2020-2021 school year.

There are a few limited exceptions for students with impairments. Please connect with your child's special education teacher or the main office if you believe that your child may fall into a group with needed exceptions.
Mask-wearing guidance from the CDC
How to wash your mask from the CDC
Frequently asked questions about the requirement to wear face coverings
WHEN IN DOUBT - SIT YOUR KIDS OUT.
Making sure that all our kids are healthy in the building will help schools keep students in our buildings.

If you determine that your child is sick, please alert the school to their absence by calling 218-885-1280 x51151.
The quantity of phone calls that our office receives does not allow enough time for us to confirm receipt of your messages.
OPERATING REFERENDUM INFORMATION FOR NASHWAUK-KEEWATIN FAMILIES
https://www.nkspartanstrong.org/

TITLE PARENT SURVEY
Please take the time to give us feedback regarding Title programming at our school.

KEEWATIN ELEMENTARY SCHOOL
Please contact us with your questions. We know that now, more than ever, we need to stay connected.

Please make sure that the school has your most recent contact information so that if your child is sick at school, we can get in touch with you as soon as possible.