Keewatin Elementary families! The lost and found is by the office. Of anything looks familiar, have your child check it out.


Baseball Update Information! Due to field conditions in Marble, the locations of the games today (5-13-2022) have changed. VARSITY will be playing in Nashwauk at 2:30 players need to get there by 1:30. Greenway players will be released at 12:45. JV will be playing today (5-13-202) in Pengilly at 2:30 Greenway players will be released at 12:45 and the bus will leave the lower Scofield at 1:00. The Nashwauk players will be released at 1:10 and the bus will pick them up in front of the gym doors at 1:20. 7th and 8th will play in Pengilly after school today (5-13-2022) against Deer River. Greenway bus will leave from lower Scofield after school and bus to Pengilly. Nashwauk players will get on Route Bus 50 to Pengilly after School.



Keewatin Elementary School yearbooks are sold out at the school. We have created an online store to allow for those students who would still like to order. These yearbooks will ship directly to your home! You can find the store here:
https://store.shopyearbook.com/keewatin22
- Thank you for your support!"

Notice of Open Public Meeting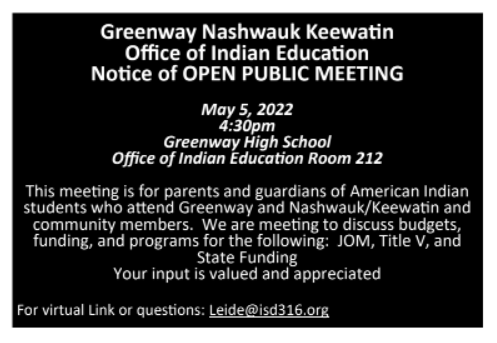 Keewatin Elementary School had over 60 students walk, bike or roll to school today! Great turnout!

Teacher Appreciation Day Tuesday, May 3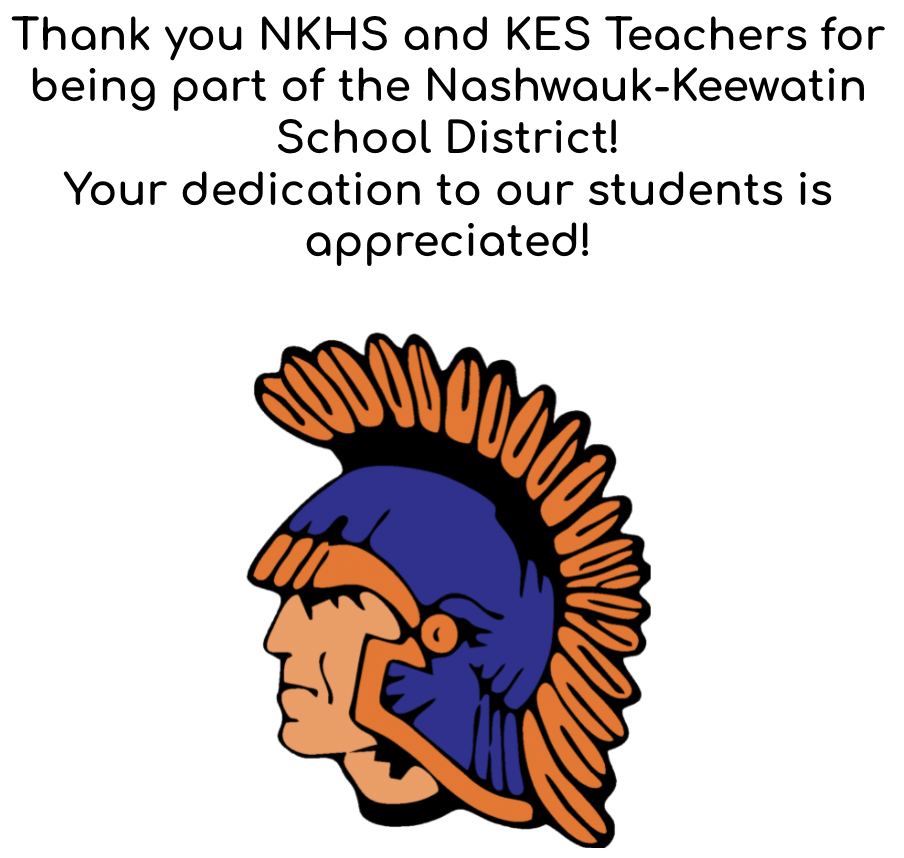 Keewatin Elementary yearbooks have arrived! Order forms were sent out last week and are due Friday, May 6th. The yearbooks will be dispersed May 6th or May 9th. Contact Shona Brohman if you have any questions.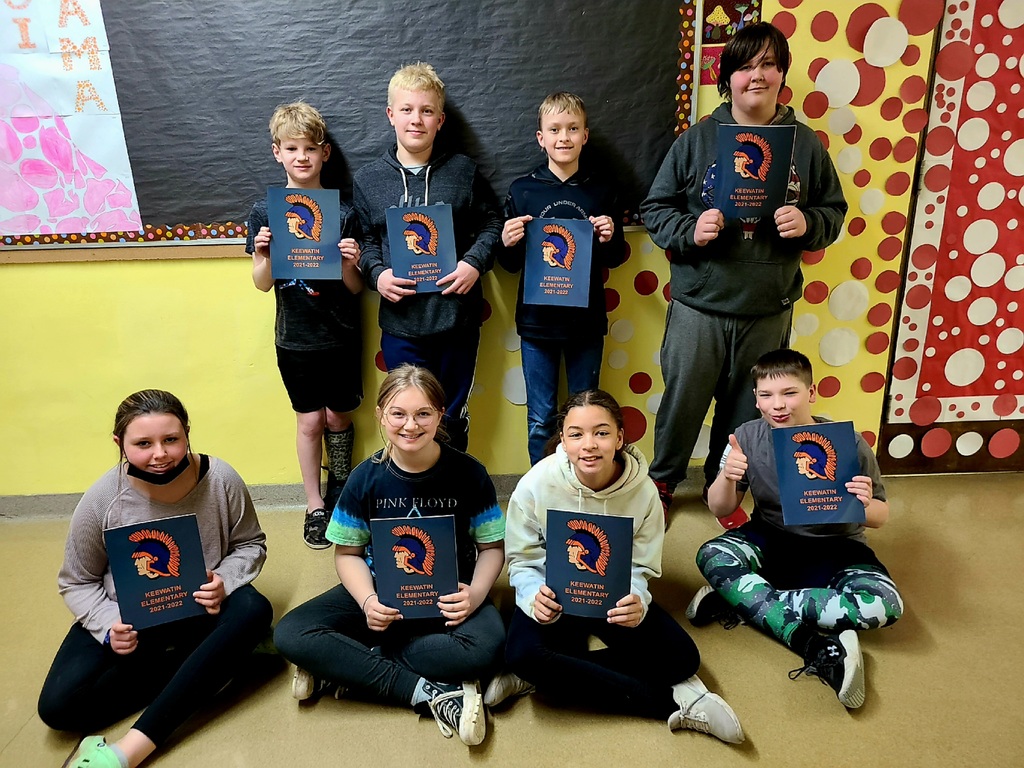 There will be a Nashwauk-Keewatin High School Art Show at the Nashwauk City Hall May 2nd - 26th! The common area will be open for display viewing during the City Hall hours of operation. On May 2nd from 2:00 - 6:00 p.m. there will be an open house in honor of our art students with refreshments served! Come and see the work of our talented students!

Good Afternoon! Keewatin Elementary will be back in session on Wednesday, April 20th. We are working closely with The Institute of Environmental Assessment from Mountain Iron to ensure the building is safe for students and staff. Thank you for your patience! Dr. Villebrun
The summer Community Education catalog is now live online! It will go home in backpacks soon! Go to getlearning.org to check out all the summer classes and events for both youth and adults!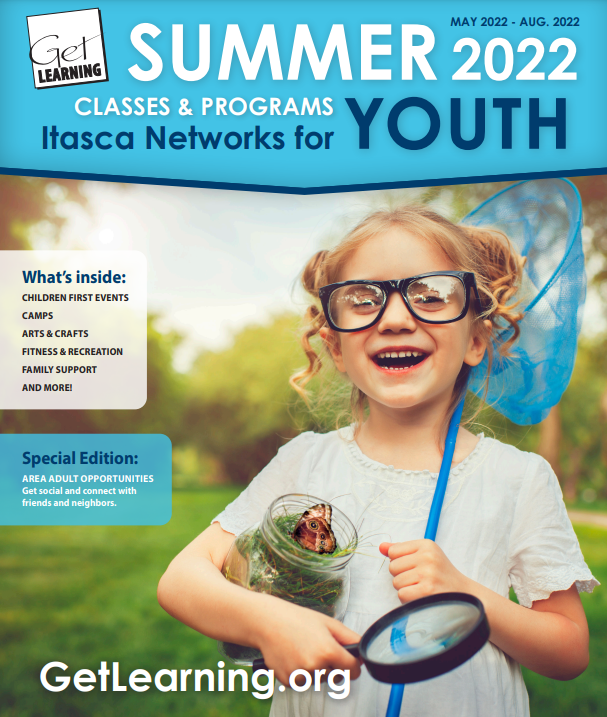 We will have the last Spartan Food Pantry Food Bag offering of the year, tomorrow (Wednesday), April 13th from 12-1:30pm. If your family could benefit from a little extra food over the break please drive by door #1 on the backside of the Keewatin Elementary School and school staff will hand you a bag of goodies from 12-1:30pm tomorrow. :)
Youth soccer coaches needed. Grades 1-2 (U8) Please email Sarah Mell if you are interested.
sarmell@gmail.com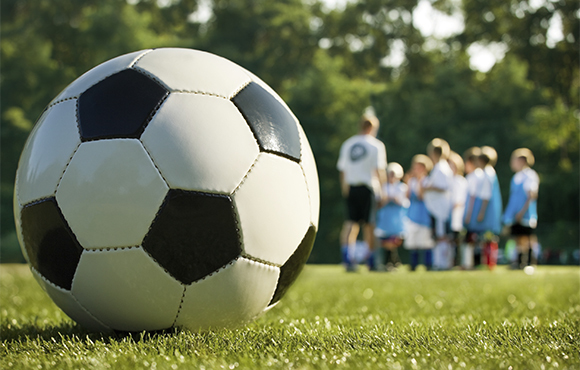 Thank you to Zach McNeil and Bryan Boone for donating their time and talent to celebrate the hard work of the Keewatin staff. The coffee and donuts were delicious! We appreciate your thoughtfulness!

Nashwauk-Keewatin students benefit every day from the leadership and vision of our school board members. February 21-25 is Minnesota School Board Recognition Week, so please take time to thank these dedicated school leaders. School board members devote hours of their time each week to provide leadership for our school district! Thank you, Nashwauk-Keewatin School Board members, for your dedication to providing NK students with the best education possible! #CelebrateSchoolBoards

UPDATE.....Due to inclement weather, ISD319 will be closed on Tuesday, 2/22/22! Stay Safe!

Due to inclement weather, ISD319 will have a two hour late start on Tuesday, 2/22/22! The bus will pick up students two hours later than their regularly scheduled pick up time.