Bike to Anywhere Day is May 5th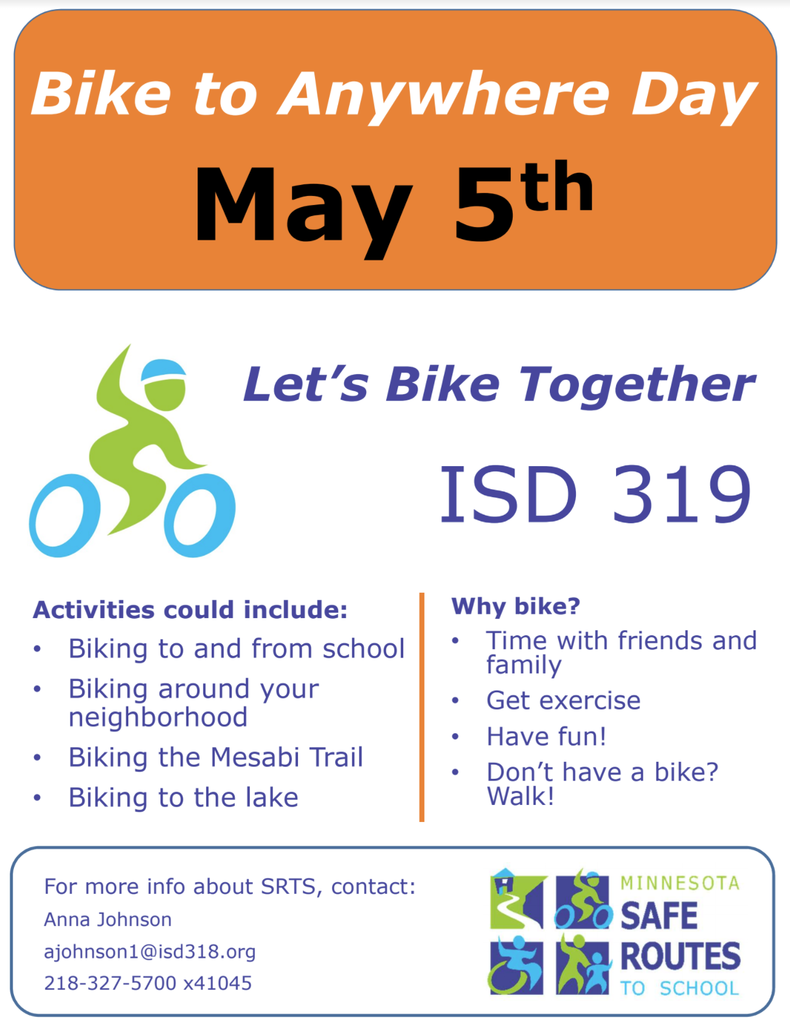 Senior Spotlight- Misty Bozich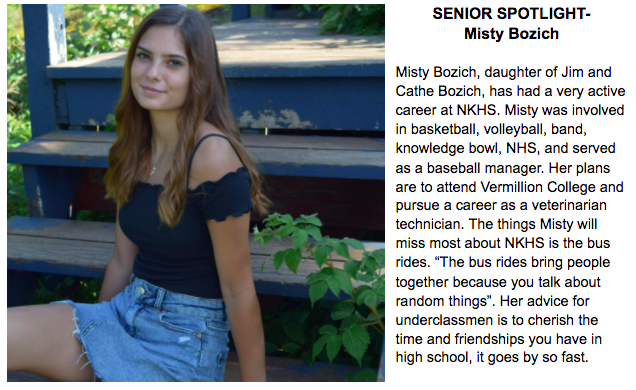 Senior Spotlight- Geno Uhrbom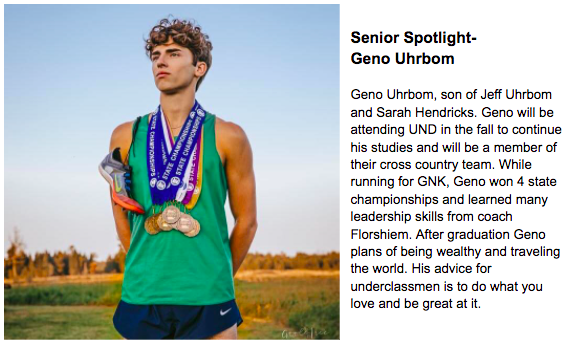 REMINDER: Today, Wednesday, April 28th, from 12pm-1pm the Spartan Food Pantry is hosting a Drive By Food Bag Offering for families who could benefit. Items in the bags will include ingredients for Tator Tot Hotdish and Chili. Chili items were generously donated by a local citizen. At this time, I would also like thank all those who have donated to our food pantry this year. It's been greatly appreciated by our staff, students and families. Sincerely, Mrs. Lautigar Keewatin Elementary Counselor
CANCELLATION of Virtual Family Cooking Event scheduled for this evening, April 27th. Unfortunately, due to the lack of participants we have to cancel. We will also be canceling the food bag pickup for today, however, we want to get the food donation that was made out to our families that need it. Therefore, on Wednesday, April 28th we will have a food bag drive by offering on Wednesday afternoon instead from 12pm-1pm. Mrs. Lautigar Keewatin Elementary Counselor



Give your child an edge on learning this summer!!!! 319 Summer Learning Academy Registration Form 2021
https://5il.co/r0ft
Hello fellow Spartans! Just wanted to make everyone aware that we are hosting another Virtual Family Cooking night on Tuesday, April 27th in collaboration with the Spartan Food Pantry, Children First and SNAP-Ed (University of MN Extension). Sign up deadline is Sunday, April 25th and we will be making White Chicken Chili. Food supplies needed for the recipe will be available for pickup on Tuesday, April 27th at Door #1 of the Keewatin Elementary from 1:30pm-3:15pm. Thank you to a generous community citizen for the food donation! :) Mrs. Lautigar Keewatin Elementary Counselor
https://docs.google.com/document/d/1L8BS_C6oE-CSygb2mhndc3U1eu3eq2bQdjHPxuWoINk/edit?usp=sharing

The HS Girls Softball game in Silver Bay today has been cancelled.


The baseball game scheduled for today, 4/12/2021 has been cancelled. A reschedule date has not yet been determined. Players: Please meet in the big gym after school today for practice.

Nashwauk-Keewatin schools are looking for your feedback regarding your thoughts about our schools. There will be an open forum for all community members via zoom on Thursday, April 22nd at 6:30 pm. The board of education will be using your feedback regarding the future of the district especially as it comes to facilities. Please plan to join us. If you would be willing to participate, please send us your email address and we will send you the zoom link. The meeting will last about 30-45 minutes.

4/8/2021 With the current forecast, GNK Track will be practicing in Coleraine today in the main gym & weight room after school from 3:15 to 5:15. There will be a practice bus from NKHS after school that will return there after practice.

Vaccines for students age 16+ will be available on Thursday, April 8th with the help of Bigfork Valley. If you are interested in reserving a spot for the 40 available vaccines, please respond by email to:
mlueders@isd319.org
or
rdamjanovich@isd319.org
by the end of the day TODAY! Vaccines are limited. We will send the consent forms to you once your spot has been secured!



High School Students....... Need help with registering for your 2021/2022 class choices? Follow this link for directions!
https://5il.co/qxpg