The Volleyball Schedule is now available for viewing. Here is the link to this year's schedule.
https://northernlakesconference.org/public/genie/90/school/9/
Reminder that VB practice starts on August 15th at 8a.m. for High School and 9a.m. for 7th and 8th graders. Also, make sure your child's sports physical is up to date. If you have questions on accessing the schedule, please email Max Torgerson at
mtorgerson@isd319.org

GNK Cross Country practice begins Monday, August 15th @ 9:00 a.m. @ Lower Schofield parking lot in Coleraine. Practice is open to students in 6th - 12th grade! Practice and meet schedules will be handed out at the first practice!

2nd Annual Keewatin Police Department School Supply Drive! More information at this link!
https://5il.co/1fkzi


Volleyball season will be starting soon! Here are some dates and things you need to know. Practices will be M-F, unless there is a game. A detailed practice and game schedule will be given out the first day of practice. August 15: Practice starts. 9th - 12th grade: 8 a.m. - 12 p.m. in the big gym (all week) 7th - 8th grade: 9 a.m. - 11 a.m. in the upstairs gym (all week) August 16: 7th-12th Grade Parent Meeting at 6 p.m. on the high school stage. August 20: Varsity Jamboree in Hibbing August 23: Home scrimmage for all levels against Remer from 10 a.m. - 12 p.m. August 24: Pictures for 7th-12th grade at 9 a.m. Practice afterwards. Another message will be sent out when registration is open. Please make sure your physical is up-to-date.

Kindercamp registration deadline updated to Friday, July 22nd!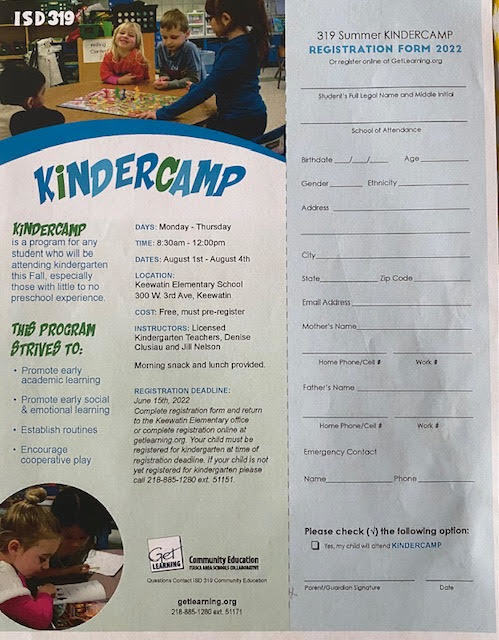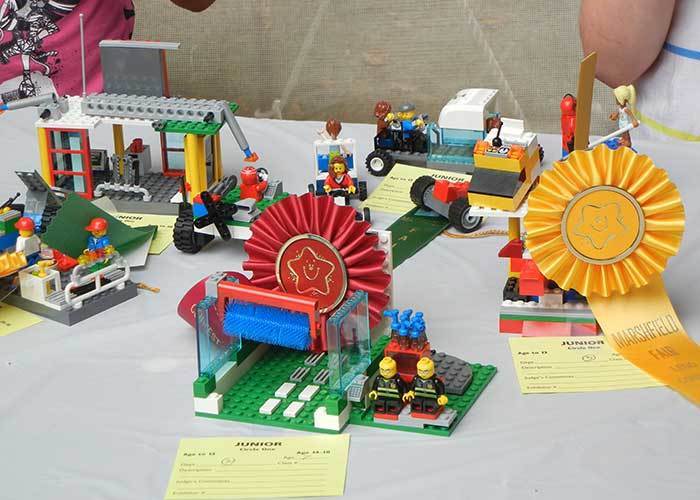 Keewatin Elementary families! The lost and found is by the office. Of anything looks familiar, have your child check it out.


Baseball Update Information! Due to field conditions in Marble, the locations of the games today (5-13-2022) have changed. VARSITY will be playing in Nashwauk at 2:30 players need to get there by 1:30. Greenway players will be released at 12:45. JV will be playing today (5-13-202) in Pengilly at 2:30 Greenway players will be released at 12:45 and the bus will leave the lower Scofield at 1:00. The Nashwauk players will be released at 1:10 and the bus will pick them up in front of the gym doors at 1:20. 7th and 8th will play in Pengilly after school today (5-13-2022) against Deer River. Greenway bus will leave from lower Scofield after school and bus to Pengilly. Nashwauk players will get on Route Bus 50 to Pengilly after School.



Keewatin Elementary School yearbooks are sold out at the school. We have created an online store to allow for those students who would still like to order. These yearbooks will ship directly to your home! You can find the store here:
https://store.shopyearbook.com/keewatin22
- Thank you for your support!"

Notice of Open Public Meeting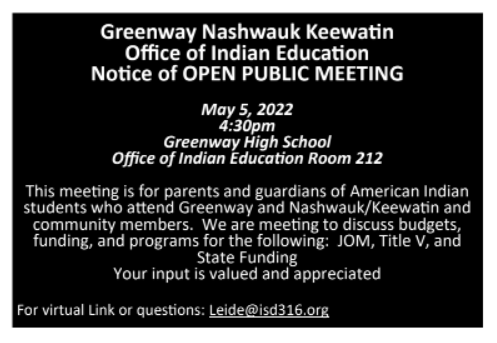 Keewatin Elementary School had over 60 students walk, bike or roll to school today! Great turnout!

Teacher Appreciation Day Tuesday, May 3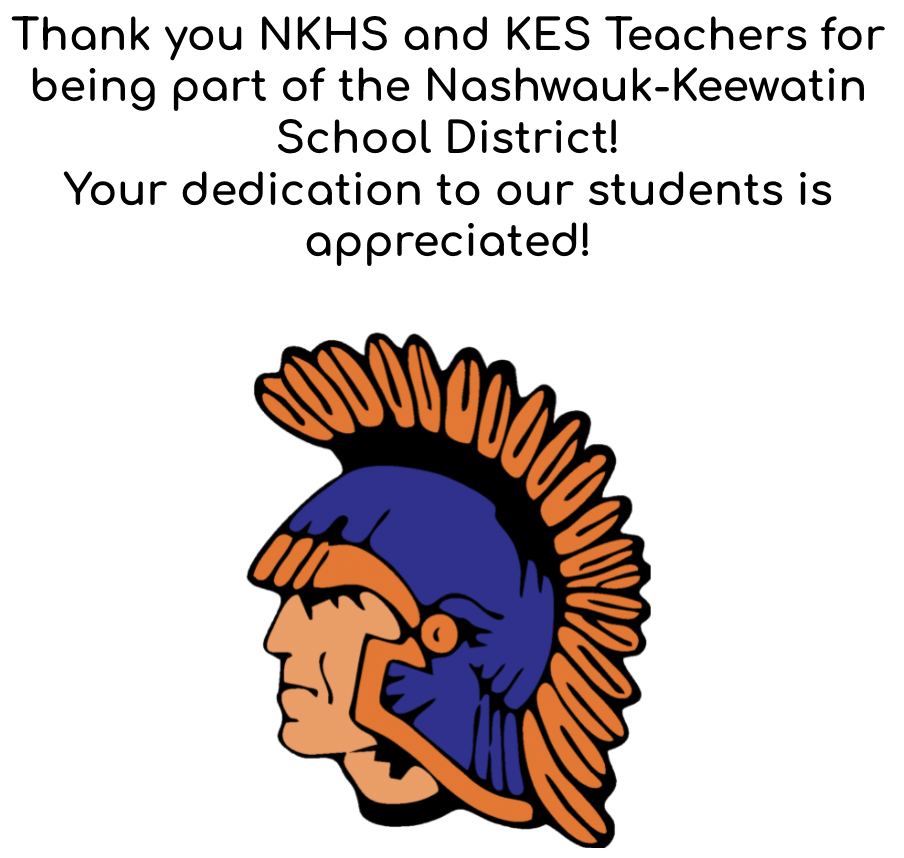 Keewatin Elementary yearbooks have arrived! Order forms were sent out last week and are due Friday, May 6th. The yearbooks will be dispersed May 6th or May 9th. Contact Shona Brohman if you have any questions.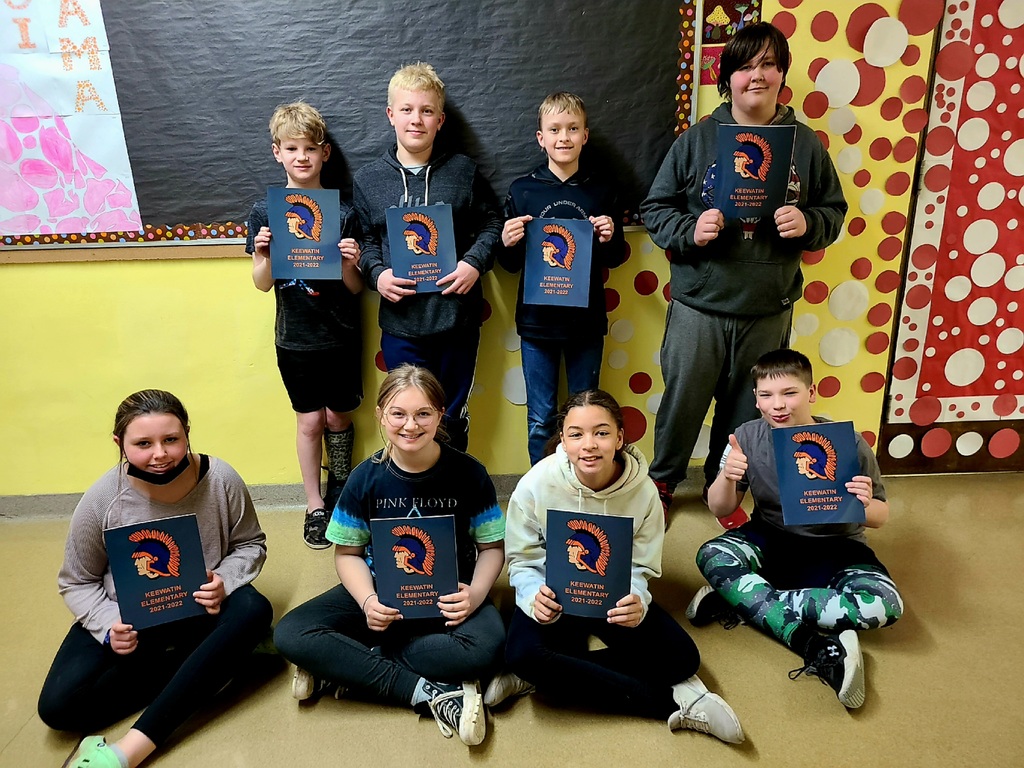 There will be a Nashwauk-Keewatin High School Art Show at the Nashwauk City Hall May 2nd - 26th! The common area will be open for display viewing during the City Hall hours of operation. On May 2nd from 2:00 - 6:00 p.m. there will be an open house in honor of our art students with refreshments served! Come and see the work of our talented students!